Dr. Mikao Usui
What is Usui Reiki?
Usui Reiki Ryoho or the Usui Spiritual Healing Method promotes relaxation, stress reduction and healing. It is based on the teachings of Dr. Mikao Usui, who lived in Japan in the late 1800's. Reiki hands-on healing is administered by gently laying hands on or above the fully clothed recipient's head, shoulders, back, chest, stomach and limbs. It is based on the idea that an unseen life force energy flows through us and is what causes us to be alive. If an individual's life force energy is low, then that person is more likely to get sick. If a person's life force energy is high, that person is more likely to be healthy and happy. During a Reiki Session (learn more) energy moves through the Reiki practitioner and the recipient pulls energy where she or he most needs the energy. Reiki helps to restore balance to the recipient and will help one to feel and function better. Reiki can help an anxious person to feel more relaxed, a tired person to feel refreshed, or a distressed person to feel more comfortable. It can also reduce pain and headache. These changes are accompanied by physical changes indicative of deep relaxation, such as a slower heart rate and easier breathing.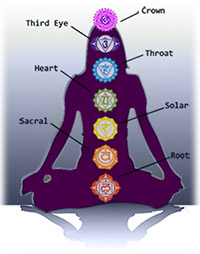 Reiki can help us to balance the
energy flow through our body.
What are Some Unique Aspects of Reiki?
The Reiki practitioner does not transfer his or her personal energy to the recipient but is rather a conduit for Reiki energy. Therefore the "giver" experiences no sense of depletion and there is no transfer of dis-ease between the two parties.
Although Reiki is usually shared using light touch, it can also be shared over a distance. Anyone who has been trained to Usui Reiki Level II can share Reiki over a distance.
Once trained, one can practice Reiki on oneself for relaxation, healing, spiritual or personal growth. Daily self practice is encouraged.
Can Anyone Learn to Practice Reiki?
Yes, anyone can learn to practice Reiki. It is easy to learn and easy to practice. You can learn to practice Reiki on yourself, friends and family in a Reiki I class. The most important reason for completing a Reiki I class is to work on the self. Part of learning to practice Reiki involves receiving Reiju or attunements to your energy field. An attunement raises the frequency of the vibration of your energy field so that Reiki can move through you. It is an initial experience of what is to come through your own self practice. Although you can learn about Reiki through reading books and information on the internet, you cannot be attuned to Reiki through the internet or reading. You must receive Reiju or attunement in person from a Reiki Master. Click here to find out about Reiki classes (learn more).
Is Usui Reiki a Religion and Must I Believe in it for it to Work?
Usui Reiki is not a religion. There is no dogma or tenants of faith in Reiki. It is simply a natural spiritual healing practice. The existence of Reiki is not dependent upon belief. You don't have to believe in Reiki to feel it, just try it!
Life energy flows through all living things
How is Reiki Used in Health Care?
Reiki complements medical and psychotherapeutic treatments. It is non-invasive, completely safe, and supports any medical treatment or drug prescribed by a doctor. Reiki is gentle enough to offer support and reduce the discomforts of pregnancy and childbirth. Reiki is used in a rapidly growing number of hospitals all over the world. Hospitals such as Sloan Kettering Cancer Center and Dartmouth Hitchcock Medical Center have Reiki practitioners available to a range of patients, including those with cancer or recovering from surgery. It is especially appreciated in hospice care to alleviate anxiety and pain for both the individual in hospice care and his or her family.
Reiki training can enhance the ability of LNA's, nurses, doctors and other health care professionals to offer comfort and relaxation to their clients. Click here to find out about Reiki classes (learn more).
For a listing of medical papers about Reiki go to http//reikiinmedicine.org/medical-papers